Los Angeles Rams Press Release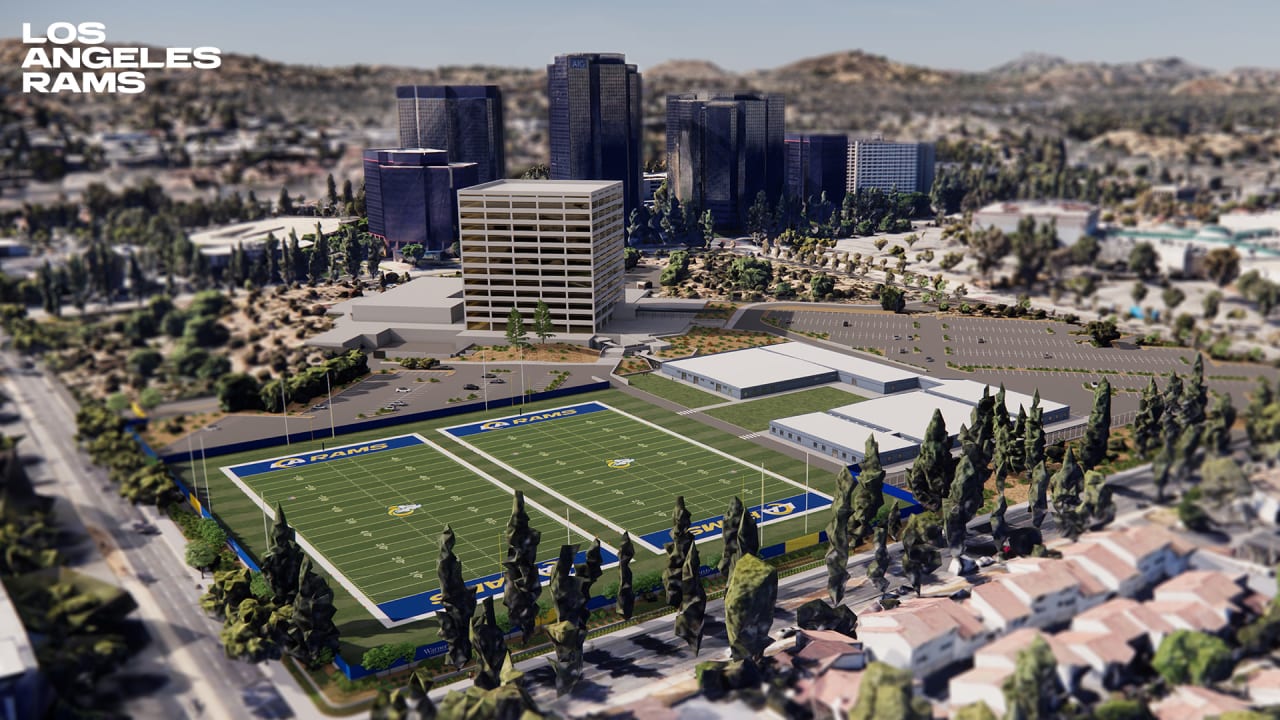 November 14, 2023 — The Los Angeles Rams announced today that they will relocate their practice facility to Woodland Hills, California ahead of the 2024 NFL season. The facility will be located at the corner of West Oxnard Street and Canoga Avenue, part of the nearly 100 acres in Woodland Hills acquired last year by Los Angeles Rams owner/president E. Stanley Kroenke.
The announcement came during a celebration at the adjacent Topanga Village, an indoor and outdoor shopping and dining destination that is also part of the 100 acres. Los Angeles Rams Chief Operating Officer Kevin Demoff was joined by Council Member Bob Blumenfield to announce the decision and announce that construction will begin later this week.
"This is a monumental day for the Los Angeles Rams because we can now call Woodland Hills and the city of Los Angeles our home," Demoff said. "We are grateful to Councilman Blumenfield for his support and to this wonderful community for welcoming us into their neighborhood. Since the Rams returned home to Los Angeles, Stan Kroenke's commitment to this area has been unmatched and we are thrilled to expand our footprint and deepen our impact across the city."
This moment of celebration culminated with the Rams Community Blitz Day of Service in Woodland Hills, which included stops at the West Valley Food Pantry as well as Holiday For Heroes military appreciation events at two local schools – Calabash Charter Academy and Woodlake Elementary Community Charter. Rams players Rob Havenstein, Ernest Jones, Larrell Murchison, Christian Rozeboom, Coleman Shelton, Jonah Williams, Kyren Williams and Russ Yeast joined the Rams Cheerleaders and Rampage at these events to give back to the Rams' new home and honor the army as part of the team's annual Salute To Service week. Additionally, new certified #RamsHouse Blinkie's donated Rams donuts to welcome their hometown team to the neighborhood.
"I am thrilled that Stan Kroenke and the Los Angeles Rams are investing in our community and calling Woodland Hills home," said Council Member Blumenfield. "I look forward to collaborating with the Rams and the Kroenke Group as they develop plans for their footprint and investments at Warner Center and deepen their local relationships."
Over the next few months, the Rams will install a modular trailer facility on the field that will include offices and meeting rooms for coaches, players, scouts and staff, a weight room and training room, a locker room, media room, and dining room. Next to the trailers will be two soccer fields where the team will train and practice.
This is the first step in Kroenke's long-term vision for the field, part of the exciting development envisioned for Woodland Hills as part of the Warner Center 2035 plan. Once the practice facility is installed, the organization will begin exploring a larger development that would include the team's permanent headquarters and practice facility, as well as a plan to include residential, commercial and retail uses as well as green space and other spaces community. -service amenities.
Topanga Village is one of the West Valley's premier shopping and dining destinations, with more than 70 shops and restaurants, ranging from popular national brands to unique local businesses. The outdoor shopping center includes a children's play area, pet-friendly areas and water features perfect for hot summer days. Topanga Village serves as a community gathering place and hosts a wide range of events throughout the year, including summer concerts, a pumpkin patch, outdoor fitness classes and holiday events. Future improvements to the center will prioritize creating a space where people can come together to shop, dine and socialize in a beautiful environment.
Much of Kroenke's professional life has been devoted to real estate and community development. In 1983, he founded the Kroenke Group, a leading national company that constructs and manages shopping centers and apartment buildings throughout the United States. The Kroenke Group owns and operates shopping centers in 39 states comprising 40 million square feet. Throughout his career, he launched and transformed dozens of business enterprises, including television and radio stations, warehouses, and renowned wineries and ranches throughout North America and Europe. At the confluence of his areas of expertise – sports, business, commercial and residential development – ​​Kroenke built SoFi Stadium and continues to develop Hollywood Park in Inglewood, California.